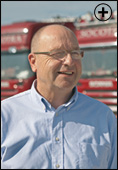 Native from the "bassin audomarois", son of shopkeepers, I quickly understood the meaning of the words "effort" or "courage".

I admired not only the rigour, but also the passion they had for their job, for their customers, despite the hard circumstances of life at that time.

From that tough but happy childhood, I have kept characteristics that are essential to me : Humility, sense of work, respect...
On this fundamental basis, I set up my business in transport more than 40 years ago.

During all those years, I've always been focusing on two main objectives: customers satisfaction and employees well-being. I wouldn't have the pretention to say that I have totally achieved both of them but I know that SOCOTRA is now considered as a healthy family business and a pleasant place to work in.

Soon my son Jean-François, after 15 years working by my side, will drive SOCOTRA towards new objectives, new challenges.

This website marks the beginning of this new human adventure which, I hope, will be written with you.
Jean-Marie TARTARE
CEO